WHAT IS THE POWELL FLUTES SHOWROOM?
The Powell Flutes Showroom and Factory is located in Maynard, Massachusetts, about 25 miles outside of Boston. It offers flutists the opportunity to test and purchase Powell instruments at the Handmade level, from Signature through Handmade Custom. Work one-on-one with US Direct Sales Manager Kristyn Moore, who will walk you through the Powell offerings and provide guided feedback to help you find the perfect match for your style of playing and performance needs.
Whether it be your first professional instrument or your lifelong dream flute, we welcome you to navigate our website and preview our many flutes, headjoints, and piccolos that are available for testing. Make an appointment to visit the Powell Flutes Showroom, or connect with us via chat, email, or phone to learn more about current availability, technical specifications, and more.
LET'S STAY IN TOUCH
Be the first one to receive news from your Powell Flutes Showroom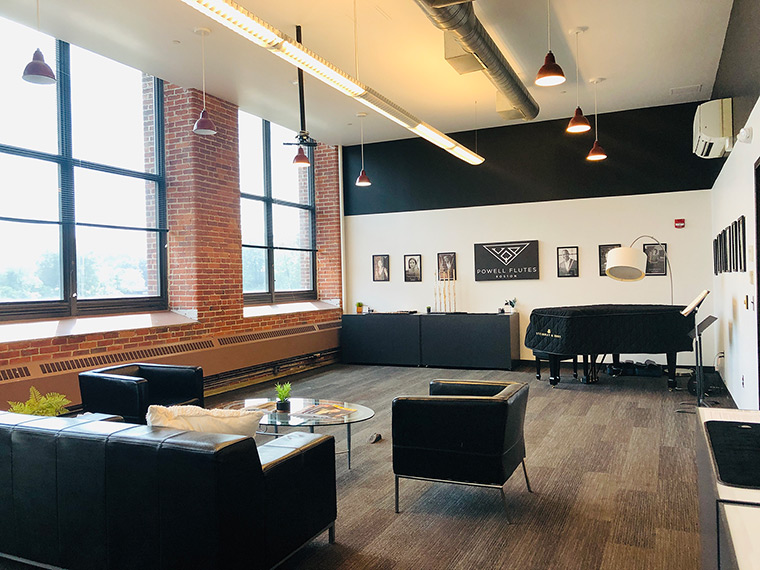 Powell Flutes Boston - Maynard Showroom
3 Mill and Main Suite 130
Maynard, MA 01754 USA
Kristyn Moore, Powell Flutes US Direct Sales Manager
+1 (978) 344-5179
kristyn.moore@buffetcrampon.com
OPENING HOURS
Monday to Friday: 9:00am - 5:00pm
Appointment only